Plus $149 monthly subscription includes MIERON Rehab Pro content library, online training resources for practitioners, and quarterly expansion packs. Subscription begins upon device activation with a minimum 12-month commitment.
The MIERON Rehab Pro system for healthcare providers includes unlimited patient use with each headset license, and full access to the Mieron content platform including:
Head & Neck Mobility
Upper Body Mobility
Core & Trunk Stability
Lower Body Mobility
Gait Training
Mental Wellness
Pain Management
With exercises designed in the principles of NeuroRecovery, Locomotive Training, Physical Therapy, Occupational Therapy and Activity Based Training.
Includes everything you need: VR Headset, Adaptive Gaming Accessories, Content Library, Online Training, and Continued Education resources.
Delivering now in the contiguous United States. Please expect 2 – 6 weeks for delivery depending on your location.
+Adaptive Gaming Accessories (Included): Get the most out of Mieron with our adaptive gaming accessories. Designed with the end user's body in mind, our accessory kit provides additional ways to participate in the VRNT exercises, and challenge new muscle groups for those with impaired mobility and/or dexterity. The Mieron Rehab Pro kit includes a weightless lateral bar and easily adjustable wrist attachment for the hand controller. Co-viewing is now available through any wifi and bluetooth enabled mobile device. Mieron can also be utilized with other hardware such as FES equipment, gait training equipment, stationary bikes, bosu-balls, resistance bands, and more!
Get creative with how you implement Mieron into your rehabilitation practice, and collaborate with other doctors and therapists around the world with our Mieron Rehab Pro online forum available to active Mieron Rehab Pro subscribers.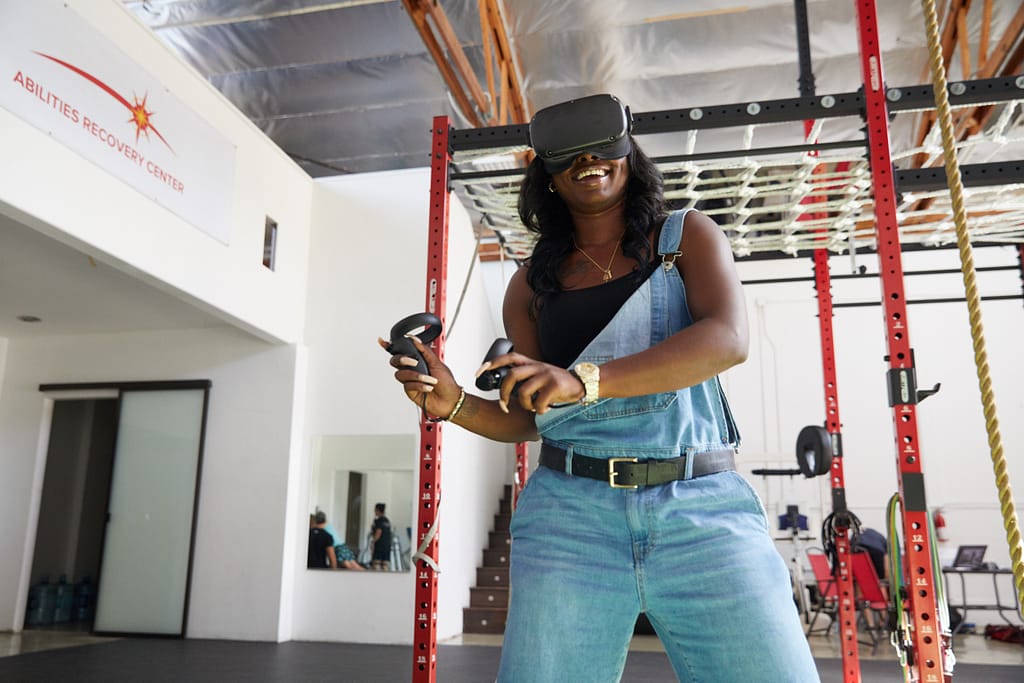 All-in-one equipment for full body strength building with wellness library built in

Light, adjustable and fine-tuned wireless VR headset for comfort and balanced load distribution

Measures reps, range of motion, mobility parameters & score keeping

Video based training with step-by-step instructions for easy integration into your practice

The most efficient, effective, and engaging VRNT programs to help your clients

Achieve More

Unlimited patient use with each license 
Experience immersive VRNT without a separate PC or smartphone. The Oculus Quest headset with MIERON content library includes WorldSense™ technology to lean, dodge, duck, move, avoid obstacles, and move naturally through an ever-growing library of VRNT exercises.
Operating system
Android 7.1.1
System-on-chip used
Snapdragon 835
CPU
4 GHz
Memory
4 GB
Storage
64 GB, 128 GB
Display
OLED 1440 × 1600 per eye @ 72 Hz
Graphics
Adreno 540
Sound

Integrated stereo speakers
2 × 3.5 mm headphone jack

Input
6DOF inside-out tracking through 4 built-in cameras
Controller input
2nd generation Oculus Touch motion tracked controllers
Camera
4 cameras
Connectivity
Mass
571 g (20.1 oz)
I found myself pushing my body farther than I thought I could because I wanted to participate in the VR Experience.
Kevin
21 Year Old SCI
I do not have great balance as C6 quadriplegic SCI but I was not thinking about my balance issues when using Mieron - I was just accomplishing the given task.
Brent Poppen
Two Time Paralympic Medalist. C6 SCI
Meiron gives me more control and more motivation to take my rehab into my own hands and onto the next level. It's always a fun challenge!
Ronni
Encephalomyelitis Patient
When using Mieron I did things I didn't think were physically possible after my stroke. I have strength to drive longer distances because of my rehab with Mieron. It helps keep me independent.
Jill
Stroke Survivor